Friday, February 12 marked the start of the Lunar New Year, the most important and most festive holiday of the year for many Asian cultures. Also known as the Spring Festival, the Chinese New Year, Seollal in Korean or Tết in Vietnamese, this 15-day festival celebrates the joy of home and family and the start of a new year according to the lunar-solar calendar.
In our classrooms, children have been hearing stories, playing games, and learning about the many diverse traditions that are celebrated around the world as part of this festival.
We are honored to share several personal stories with you, below; windows into memories and experiences of Lunar New Year that have been graciously shared by parents and staff. Thank you Rebecca, Ryan, Yushi, Lydia, and Peng!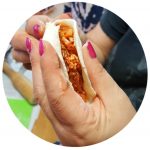 ---
"Lunar New Year means celebration. We call it the "Lunar New Year" so as to include all countries who celebrate this. China, South Korea, Vietnam, and Singapore are some that come to mind. My family lives in South Korea and are Catholic, so our way of celebrating may be different from another family in Korea who may be Buddhist or from someone who may be from China.

In Korea, Lunar New Year is called Seollal and we use the holiday to spend quality time with our families. We dress in Hanbok, Korean traditional garments, and the children perform a special bow, called Sebae to get some small trinkets of fruit and money from their grandparents. Usually, we eat some foods such as tteokguk, a delicious rice cake soup and my mother always makes mandu which are dumplings filled with vegetables, meat and kimchi. The children like to play some fun games, called Yutnori and they may fly a kite with their family."

—Rebecca Benstead, CLWS parent
---
"For me Lunar New Year means hot pot. Every year, my wife and I make a big hot pot meal and invite family and friends over to eat and listen to Chinese traditional music (and drink lots of Tsingtao). It also means travel. During the New Year was usually one of our best times to travel during the year. Some years we would spend the holiday going back to the States to visit family and other years we would use the time to travel to a new country."

—Ryan Bour, CLWS assistant teacher
---
"Chinese New Year is a time for me and my boys to reflect on our ancestry and honor their lives that brought us here. We make festive food and listen to stories about each one of them. The stories about how I spent my Spring Festivals in my childhood were my boys' favorite. We talk about the phenomenal fireworks I've seen, and how kids could get to stay up for the New Year's Eve. We talk about how our ancestors decided to use a very sophisticated solar-lunar calendar to decide the beginning of the year cosmically, and how farming reflects on this calendar. There's endless amazing new discoveries of the profound traditions.

Spring Festival is about family and friends. This year, we got up early in the morning on the New Year's Eve and watched the live Spring Festival Gala on YouTube so we can be watching the special event with our friends and family in China. We received many blessings and videos of fireworks from our friends and family in China."

—Yushi Zhang, CLWS parent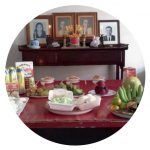 ---
"I remember my favorite part of Chinese New Year was folding Joss paper and burning it to our ancestors. We folded many things like clothing, watches, beds, books, cars and more."

—Lydia Tantiviramanond, CLWS assistant teacher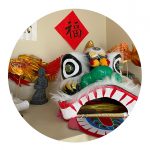 ---
"After being in the US for nine years, my parents and the roots of the culture seem so far away.

I grew up in Heijian, Hebei, China. I was the only child, Han ethnic. We lived in north China in a small town where everyone was in everyone's business.

I have told the Birch children stories about Chinese children who are having their winter break right now. Parents who still need to work will give the children a key to hang around their neck. When I had my key, I felt I was so big.

Lunar New Year is a loud holiday: lots of sounds, lots of bright colors. You get to reconnect with many people. My husband said when I spoke Chinese I was louder, and that he thought I was in a fight! Just imagine standing outside of the house, on a street where the cars are beeping and firecrackers are popping, watching the New Year parade with lions and dragons, drums, and gongs. We talked by yelling, and that was polite. Inside of the house, you could hear my dad's butcher knife pounding on the cutting board all day long, then the oil in the wok. Steam in the kitchen made me feel like I was walking on a cloud…

But for real life this year, in the morning of the first day of the New Year, I cooked dumplings—but my half Chinese son insisted on having his cereal.

We got a small lion and drum, danced, and wrote the red banner poem. What I put on my door is: 'Holding a flower under a pine tree, putting you in to my heart.'"

—Peng Liu Nelson, CLWS Birch Kindergarten Teacher and parent
---
We wish a Happy New Year to those all over the world who are celebrating Lunar New Year. May this year bring health, happiness, and prosperity to our Asian communities and to humanity as a whole.