Dear Community,
Our hearts are full and heavy this week, with the news that our esteemed colleague and friend, Lauri Pierce, made her transition on Wednesday, August 24, just as an extraordinary late summer sunset lit the sky with color. As some of you know, Lauri dedicated much of her life to Waldorf education, music, and the study of Anthroposophy. So many of us will carry her spirit in our hearts and minds for many years to come.
Lauri served the two local Waldorf schools in many capacities over the course of 35 years. A trained musician, she began as a private studio teacher in cello, piano, violin, and viola in 1970. In 1986, three years before City of Lakes Waldorf School was founded, Lauri took on the role of a class teacher at Minnesota Waldorf School. Over her years at MWS, she also served in the roles of choir and ensemble teacher, enrollment coordinator, and board and college member. We welcomed Ms. Pierce to City of Lakes Waldorf School as a lead class teacher in 2013 and she graduated the class of 2018. In the following years, Lauri taught the ensemble program, mentored teachers, and continued to serve on the College of Teachers and support the work of the Coworker's Circle. She continued to provide private lesson instruction to CLWS students and to be an active member of the CLWS community over the past year.
Lauri was mother to Kindergarten teacher Elena Orsak, mother-in-law to Movement, Games and Circus Arts Teacher, Jason Burnstein, and grandmother to CLWS students Quinn, Tiley, and Mayla (CLWS '20). All of those who knew Lauri valued her practical wisdom, heartfelt dedication, kind optimism, and deep equanimity.
As we prepare to celebrate Lauri's wonderful life (see below), please join us in extending your thoughts to her family. We feel confident that Lauri will continue to watch over us from her new vantage point.
With appreciation for all that weaves us together,
CLWS Faculty and Staff
---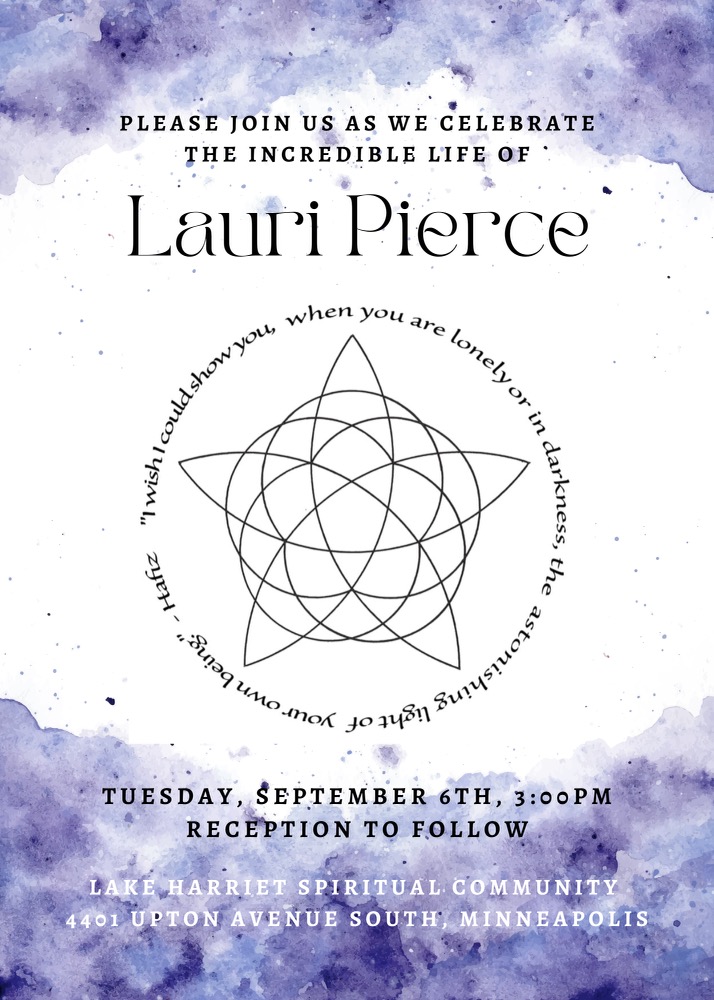 We warmly invite you to join us as we celebrate the incredible life of the beautiful Lauri Pierce on Tuesday, September 6, at 3:00 pm at the Lake Harriet Spiritual Community building (4401 Upton Avenue South). If you are unable to attend the celebration in person, you may join us via livestream here.
We will celebrate with words, music, movement, song, and color; we invite you to don your own colorful attire in her honor (Lauri was a great lover of purple)!
Program and Reception
As part of the program, we will invite any and all students of any age (likely spanning age 8 through age 47) to join in singing the classic Beatles song, In My Life. We will provide the lyrics but if you were a student of Ms. Pierce's at any point and fancy a listen so you can comfortably join the group of all ages, please do so.
A potluck reception will follow the service. If you are able, please bring a savory potluck dish for the reception along with serving utensils needed to serve your dish. Plates and utensils, along with drinks and desserts, will be provided.
Join via livestream
In Honor of Lauri
In Lauri's honor, we have been gifted multiple copies of The Rumi Prescription by author Melody Moezzi. Lauri loved this book passionately over the last year of her life, and quietly and respectfully worked to share it within her many social circles: friends, colleagues, and family. We will have stamped and inscribed copies of this book at the memorial. If you happen to already own a copy yourself, please bring it along and we will have extra memoriam stamps so you can travel home with Lauri's mark of inspiration.
The family is currently working to set up a designated fund to accept donations in Lauri's honor, to support music education and accessibility to the arts. More information about this fund and how to contribute will be forthcoming, and updated here.
Lauri was beloved by so many! We look forward to this time of being together (in person and in spirit), in honor and celebration of a truly incredible human being.