Stand-up comedy for lovers of Waldorf! Join us on Wednesday, May 3, at 7:00 pm at CLWS for a loving, irreverent, and hilarious look at Waldorf education and the culture of Waldorf schools with Waldorf educator, author, and professional stand-up comedian Ronald Koetzsch.
The show includes segments on:
The Steiner Lifestyle Points Survey
How to Survive the Class Teacher Home Visit
How to Know Your Temperament and Change Your Spouse's
Retirement Strategies for Waldorf Teachers
The Waldorf-Speak Phrase Dictionary
and more…
The show usually concludes with an appearance by Ron's alter-ego, the world famous eurythmist Eva Maria Sophia Christina Duders zu, von, und unter von Dudersdorf. Eva is the originator of "Spewrhythmy," a new art form that combines artistic speech and eurythmy. She performs (in full eurythmy garb) one of her original poems.
This event is rated "G" and is free and open to all! 7th and 8th grade students are also welcome to attend, and we'd love to see a few alumni faces, too. If you have any questions, please contact kitty@clws.org.
About Ronald Koetzsch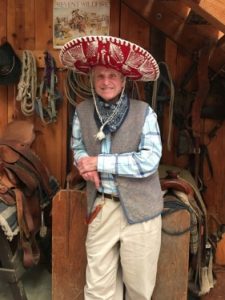 Ronald Koetzsch is a professional stand-up comedian and monologuist specializing in humor about Waldorf Education, Anthroposophy, and related matters. In the past 20 years, Ronald has given over 500 performances at Waldorf schools and conferences and at anthroposophical institutions and events in North America and other parts of the world, including New Zealand and Australia.
Ronald holds degrees from Princeton (BA) and Harvard (MA and PhD) and has taught at Boston University, Dartmouth College, and Hampden-Sydney College of Virginia. He was for many years a senior instructor at the Hurricane Island Outward Bound School and also a writer and columnist for East West Journal. Ronald is the founding and current editor of Renewal: A Journal for Waldorf Education. For many years he was a faculty member and the Dean of Students at Rudolf Steiner College in Fair Oaks, California. Ronald lives in Fair Oaks with his wife, Anne, his ginger Maine Coon cat, Amelia, five bicycles, and six fountain pens. His son, stepson, and stepdaughter all attended Waldorf school.