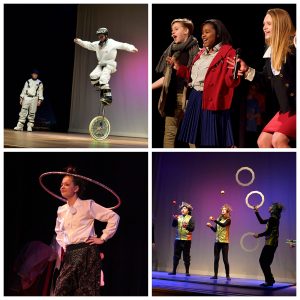 Friday, March 25 and Saturday, March 26 | Music Box Theatre
Get ready for the long anticipated return of the CLWS annual circus to the Music Box Theatre with Radio Station Identification: WCRS! This live radio station plays it all, from country western to 70's punk and everything in between. Join us as we spin some top-notch tunes, allowing a variety of musical genres and memorable characters to shape one fun and funky show. It's time to get your groove on as we step back into the theatre and take over the airwaves!
Performed by our 6th, 7th, and 8th grade students, our annual Circus is a beloved CLWS tradition for our students, families, faculty/staff, and alumni. We're currently exploring what seating and ticketing will look like, and will share this information as soon as we know more. In the meantime, save the date!