The Wedge Community Co-op provides healthy lunches for our lucky students every day, and every time we step inside the Wedge Table, we see CLWS staff, parents and students.  But did you know The Wedge Community Co-op is also one of our generous school sponsors?
Emily Larson, Education and Outreach Coordinator, took time to tell us more about why the Wedge and City of Lakes Waldorf School are such good partners!.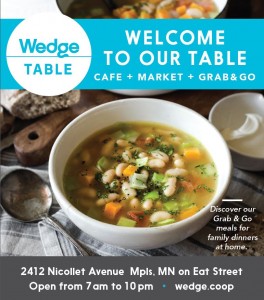 CLWS: Tell us a bit about The Wedge!
EL: The Wedge Community Co-op is a 40 year old natural food grocery store. We started in a tiny room on Franklin Avenue by people who wanted greater access to whole food and a connection to the people who produce it. We now have 16,000 member-owners. We also own Co-op Partners Warehouse, a distribution center that gets local products and organic produce out to co-ops and restaurants in 8 different states. We also recently opened the Wedge Table, a small market and cafe on Nicollet Avenue.
CLWS: What is your favorite part of your work?
EL: As Outreach and Education Coordinator, I get to meet so many people doing amazing work around food, and people who are really passionate about where their food comes from. The connection our member-owners feel about the farms they support is tangible and powerful.
CLWS: How did you first hear about City of Lakes Waldorf School?
EL: I learned about CLWS when I was working as a cashier for the Wedge and families would come through and talk about their lunches.
CLWS: What do you appreciate most about the City of Lakes Waldorf School community?
EL: The community seems very close-knit and supportive of each other. It also seems that the CLWS food values align nicely with the Wedge's. Both the values of the school as a whole and families decisions about the food they put on the table!
CLWS: Why did you want to partner with City of Lakes Waldorf School this year?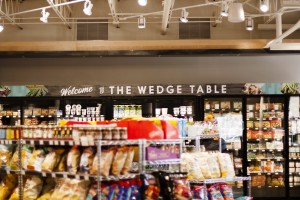 We have shared values around food, and also share a community. We love seeing CLWS parents, teachers, and classes popping into the Table to socialize, and are happy to support the good work happening in the classroom as well as the lunch room!