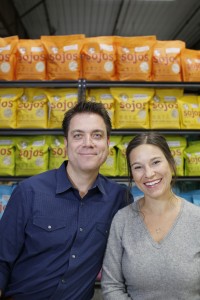 Sojos owners, Ward and Maggie Johnson, are CLWS parents and generous school sponsors. Maggie took time to tell us more about the Sojos mission, how it aligns with the Waldorf community and why she loves the tree houses in the early childhood classrooms.
Sojos has been making high quality natural pet food since 1985. Together, Ward and Maggie have built a business that brings out the best in animals and their human companions. Ward is dedicated to transforming the lives of as many dogs as possible, and Maggie wants to make Sojos the best possible place to work. "If you can't feel brilliant during your day, then it's just a paycheck and you'll move on. We try to celebrate what people are really good at and we want them to feel good while they work. We've hired hourly line workers who now manage teams and operations. It's great to watch people grow and thrive in their jobs," says Maggie.
Ward is devoted to "The Celia Project", which brings Sojos' high quality food to dogs recovering from abuse and neglect. They partner with no-kill shelters who receive dogs that are unadoptable because they are in such rough shape, from bald spots, to intensely itchy skin, to depression, or worse. "Pet foster parents take these dogs in and we put them on Sojos," says Maggie. "In 4-6 weeks we meet with them again for a progress check. The transformation is always so remarkable. These sickly, sad dogs are sometimes unrecognizable- their tails wag, their skin heals, their hair grows back, and a renewed love for life is present in their eyes," says Maggie. "Even though we are expecting profound transformation, these stories never cease to bring tears to our eyes. What we're most proud of is that we're not selling a gimmick, the results speak for themselves."
"That's where we align with Waldorf- the results speak for themselves," she adds. "It used to be that all our donations would go to pet-related causes…and then I had kids," she says with a laugh. Their family discovered City of Lakes Waldorf School through Maggie's nieces, who are alumni.  "I knew I wanted to send my kids here before I even started a family. It was an easy choice to make when I saw the benefits my nieces were experiencing."
When she took a formal tour of the school, Maggie was especially touched by the early childhood/Kindergarten rooms, which engage all of your senses right away.  "I remember weeping because it's so enchanting and tender. The tree houses, the soft lighting, and the absence of plastic toys are all subtle things that don't really show up in a brochure.  As I took the tour, it dawned on me that what Waldorf had to offer was something I never had. It left me with this feeling and I knew how badly I wanted my kids to have that same kind of feeling ," says Maggie.
When their daughter was diagnosed with severe hearing loss, they wondered if Waldorf education would still be able to meet her needs. They've been impressed and delighted with the results. "She's developed remarkable social skills at Waldorf. Her classmates are like siblings, she's never felt bullied or teased or left out. Since they take their classmates with them from one year to the next, its been very easy for her, she doesn't have to go through the rigmarole each year of explaining her hearing loss to a new class or new teacher." Over the years, their family has worked closely with Kerry Miller in Educational Support and Minneapolis Public School Services to support their daughter's learning so she has what she needs to reach her full potential.
"Kerry Miller and the teachers have been wonderful. One of my favorite things is the sense of patience the teachers have for the children, which is very respectful. It's the way the teacher holds the class, they're not yelling at kids to line up or shaming them. The children are not stifled, they are carried through the rhythm of their day, and maybe don't even realize when the teachers are successfully quieting them in a line or teaching them manners and choices. It's very subtle, but you can feel it."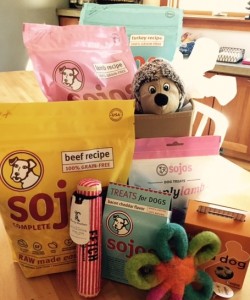 Maggie and Ward, through Sojos, sponsor City of Lakes Waldorf School as a way to give back. "I know how costly it is to run the school and to give each child what they need and deserve in the way of attention, materials, and time," She says. In addition to their generous sponsorship, Sojos along with Bone Adventure, has made a fantastic donation to our Silent Auction, so you can try out their amazing products and support our school at the same time. You and your pet will love Sojos, which offers the convenience of kibble with the nutrition of raw food.
Thank you Maggie and Ward!