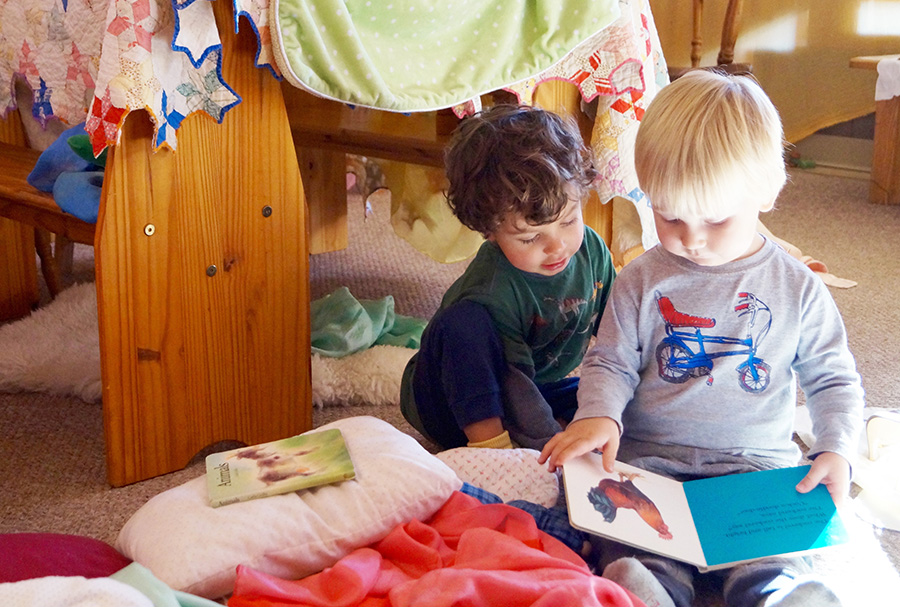 You and your little one (ages 6-36 months) are invited to experience the warmth, wonder, and unhurried rhythm of a morning in a Waldorf setting. In addition to singing songs, enjoying a snack, gathering for circle time, Little Sprouts classes offer a unique opportunity for children to become deeply immersed in their play while adults take pleasure in observing their unfolding development. Our classes inspire children to become their authentic selves from an early age, and are designed to encourage parents as they support them in this journey. Come find refuge in our child-centered environment, sheltered from the distractions of daily life.
Little Sprouts registration for the Fall 2019 session will open soon!
Classes are offered in the mornings, one day per week, for 9-10 weeks.
Class size is limited and registration is first come, first served.
Completion of the form does not guarantee a space in the class. Enrollment must be confirmed by the Admissions office within 2 business days of your completion of registration.
The fee for the 10-week session is $250 for the Infant Class (Tuesday) and $300 for the 10-week Toddler Classes (Monday – Wednesday). Twin or same age-range siblings receive a 10% discount on the second child's fees and must fill out a separate registration. Please be sure both siblings meet the age requirements of the class they are registered for! Babes in arms under 6 months are welcome to attend with a sibling at no charge.
Parents attending with two or more children are responsible for the care of both children during class.
Registration is for ONE child and ONE adult. Due to classroom space and comfort in the program, we ask that only one adult attend at a time with a child during a class.
Little Sprouts is a screen-free environment. Please power off and put away phones while in the classroom.
Meet the Little Sprouts Teacher: A Letter from Tierney Farrell coming soon!
Little Sprouts Registration for Fall, Winter or Spring Sessions during the 2019-20 School Year
Please email danapetersguarin@clws.org to be added to the City of Lakes Waldorf School weekly newsletter, which will notify families of open registration for Little Sprouts Parent Child classes for the 2019-20 school year. Alternatively, you can keep an eye on this Little Sprouts web page on our website for updates.
Registration is accepted on a first-come, first-served basis and is considered complete when the registration form and accompanying payment have been received online. Families will be notified of placement in a class once registration materials have been received. Unfortunately, we cannot hold spaces via phone requests. In the event that the requested class is full, families will be notified of the option to be put on the waiting list or register for a different day of the week, if available.
For more information, please contact the admissions office at admissions@clws.org.