By: Becky Larson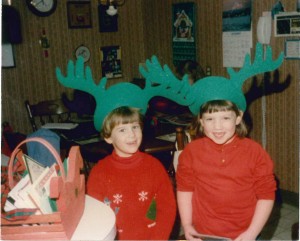 This photograph of Martha Mathis, Administrative Assistant, was taken in Tulsa, Oklahoma around Christmas time. Martha is shown here with her best friend Sally, who she's known since they were four years old.  "Sally and I never went to school together again, but we're still best friends 30 years later," says Martha with a smile.
Martha enjoyed a first rate public education in Oklahoma, courtesy of a local arts magnet school. "It was a fabulous, diverse public education," she says. Her family moved to the Twin Cities where she attended 8th grade through high school, and she says the rest of her public education didn't meet that high bar.  She attended University of Wisconsin-Stout for her undergraduate degree and went on to teach Special Education for 3 years in St. Paul and 3 years in Moundsview. Her caseload included students with a wide range of abilities and challenges, from kindergartners to high school seniors. Martha also found time to lead the speech team at Moundsview High School.
"Kids are great wherever you go, but the more I taught, the more I realized that I wasn't on the same page philosophically with the direction things were going in public education," says Martha. "I thought, do I stay in this system and bring these kids what I know they need yet feel like I'm banging my head against the wall, or do I go to a system I want to see grow and become more accessible?" Martha began investigating alternatives to mainstream education, and discovered the Waldorf approach. She'd never visited a Waldorf school before, but went to check out the teacher training program at Arcturus in Chicago. Within seconds, her mind was made up. She spent three years completing the class teacher training, and also joined the administration at Urban Prairie Waldorf School, where she was the school manager. Now that Martha is back in Minneapolis, she's pursuing her Educational Support training through the Association for Healing Education in Ann Arbor, Michigan.
"I like how Waldorf looks at more than intellect," says Martha. One thing that especially appealed to her was that teachers are encouraged to meditate and practice non-judgement in order to see the children as clearly as possible.  "In public schools, when there was challenging behavior, the adults would say, it's that kid- they're a pain, they're a troublemaker. In the Waldorf approach, adults say, this kid is behaving like this, what is he telling us he needs? " Martha believes that mainstream special ed addresses the symptoms of underlying issues, while educational support examines the roots of the problem.  "You are looking at the soul of the child, the developmental movements of each child," says Martha. "You can do behavior modifications, sure, there's a place for that, but you also need to look at what's behind the behavior."
The Waldorf curriculum also makes sense to her, especially after working with kids who are struggling academically. Teachers bring storytelling to create the foundations for literacy. Instead of the teacher approaching with the goal in mind, Waldorf education places emphasis on seeing and understanding the child first, then figuring out how best to meet them. "It's seeing the whole person and how everything affects that child. The intention, and carrying through that intention, is so important," says Martha.
Martha joined City of Lakes Waldorf School last September, and in addition to her Administrative duties in the main office, she is a frequent substitute teacher in classrooms all over the school. She leads a reading group for Grade 2, and also coordinates the Early Childhood Extended Day program. She loved the happy feeling of the school the moment she walked in. "It's a calm, happy-to-be-here community feel.  There is a real sense that the teachers and staff are happy to be here, that they enjoy being with the kids and with each other," says Martha. "It's been great being able to play so many roles, because I feel connected to all parts of the school. I feel like I've found my home."