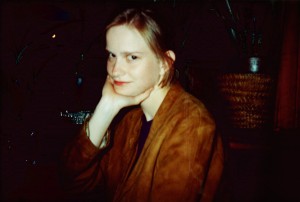 By: Becky Larson
Many of you knew who was in this photo the moment you saw it- I didn't receive a single incorrect guess. Melissa McPartland, Kindergarten Teacher, looks so very much like herself in this photo! She recently sat down with me to discuss how becoming a teacher at City of Lakes Waldorf School has helped her to grow, and what  Waldorf education has to offer grown-ups, as well as children.
Melissa first encountered Waldorf education while living on  25th Street. Her husband, Chad, was working for The Whittier Alliance, and heard a new school was about to move into 2344 Nicollet Avenue South. When their oldest son, Oliver, was ready for pre-school, they began researching schools, and were delighted to discover how well City of Lakes Waldorf School reflected their values. Oliver was enrolled, but when Chad was offered a job in Cambridge, England, they packed their bags for an adventure. The family lived there for 3 happy years, rolling up their sleeves to get involved with Cambridge Steiner School, and growing by one member, their youngest son, Callum. When they came back to Minnesota, they bought a house an easy walk from the school.
Melissa is a talented clarinetist, and first joined the staff as a music teacher. Joining the faculty felt natural and during co-worker meetings she marvels at her colleagues. "It's pretty incredible that Waldorf has so much to offer the grown-ups, as well as the children," she says. Becoming a Waldorf teacher has helped her grow and change. "I've had lots of opportunities to do things I wouldn't have tried otherwise," she says. "I didn't know how to knit, and now, I love to knit! When you're older, it's hard to learn something new, but from handwork to spiritual development, this is an avenue for you to find it. "
She described the many ways she's been challenged to work artistically, through drawing and painting classes with Kevin Kane, and movement theory. One thing that sets City of Lakes Waldorf School apart for her is the number of creative people- musicians, artists and writers- and watching their creativity spill over into adapting the pedagogy. " It helps things feel fresh and not dogmatic," says Melissa. She felt challenged to become a better leader too, because of the expectation to volunteer and be part of committees.  "It's all about relating to people in a collaborative way."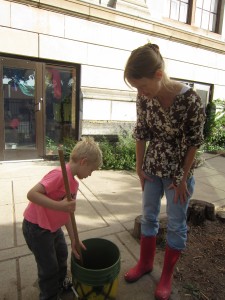 Music is part of the work that comes easily to her. "We sing all the time," she says. Anyone who has been in the school during the day has heard these beautiful songs echoing through the halls. Nearly every activity has a song to accompany it, and Melissa loves making up her own.  Baking the bread, blessing the food, telling stories, and saying goodbye all have a special song to go along. "Singing makes all the work go easier," she says.
Of the special relationship she has with her fellow early childhood teachers, Melissa says "Your own classroom is like having your own family, your own little universe, " and the other early childhood teachers are like well loved neighbors. "We love working together, sharing songs, stories and ideas."  Working with kindergartners this year has been a special joy. They are preparing for Michaelmas, and since they remember it from last year, they are eager and ready to take up the work. "They are happy in the moment to do whatever you give them," says Melissa.  Her students have been cutting out crowns and decorating them with flowers, and their satisfaction and pride is written all over their faces when they finish.
She loves giving children what they need- "Lots of loving care, a slow pace and routine, time outside in nature, healthy food -all the simple things," says Melissa. For the parents, she admires the sense of trust  and shared responsibility they have an opportunity to develop with each other. "The school is very community oriented, so if they find their way into it, it provides community for adults too," she says.  "It's more like a village raising children," she says.