By: Becky Larson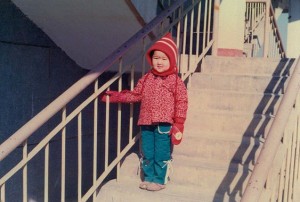 This photograph shows Peng Liu, our Mandarin teacher, as a Kindergartener. She remembers that her mother had made all her clothing, her shoes had a little hole and the apartment building was brand new. "Chinese people like new things, " she laughs. Her parents didn't have a camera of their own, so her mother's nephew came to take the photo.
Like many people, she discovered Waldorf education as an adult. During college, she worked with a student organization that helped rural children get scholarships to attend high school.  Since high school education is not free, many rural people are unable to attend.
Her work was to reach out to like-minded groups to build relationships and network. Peng was often asked what she wanted to do after college. "I always said I wanted to educate in a different way," says Peng. She jumped at a chance to go to an educational conference, and it was there that she first heard about Waldorf education. She was intrigued with the gentler, more holistic approach. After she graduated, she found a Waldorf Kindergarten in Beijing, and decided to try working there while she prepared for her master's test in  education.
"It changed me," says Peng of her first teaching experience. "That teacher [that I worked with] really believes in [The Waldorf] system, and every day she sat down to give me feedback. There were 12 children, and there was no one else to support us." They used a rented apartment for their school space, and Peng remembers it as a time full of questions.
One challenge was that neither of them had Waldorf training, and it was hard to find good translations of Steiner books in Chinese. There were three people in the community who had gone to England to study Waldorf education, and they served as guides to others interested in creating schools. "It was different, new, exciting! You had space to create. We were trying to develop deeper relationships with each other, with the children, with the parents."
Eventually, Peng went back to the university to take a children's literature class to continue her teacher training. She was struck by the difference in the method she had been learning and the way material was presented at the university. The warmth and humanity seemed to be missing.  "When you see something alive or something dead, which would you chose?" asks Peng.
She decided to take time to think about whether she should pursue Waldorf teacher training or find something else. That led her to Thailand, where she worked in the Chinese department of an International School.  Her time there helped her to realize that she wanted to learn more about Waldorf education, but that she needed to learn about it directly, not through translation.
Next, Peng headed around the world to Waldorf teacher training at Antioch in New Hampshire. She ws the first Chinese student at the school. "It was fun! It made many things clear, and was more structured so I could see the system better." Peng spent the  next year in Silicon Valley, California at the School of the Peninsula as an intern and substitute teacher.  She spent that time watching and observing. "I was finding my way of working with Children through Waldorf and becoming part of the community," says Peng.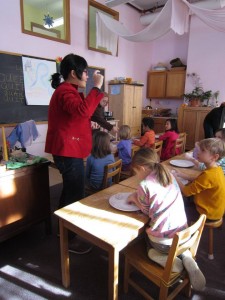 She came to City of Lakes Waldorf school this year to teach Mandarin and says she immediately noticed the friendly, happy atmosphere of this school. "It's non-traditional, with lots of artists," says Peng. "It's warm and caring here, with lots of laughter."
Peng enjoys exploring the world through the lens of education. She says her biggest questions are about freedom. "Freedom! I still want to know what freedom is," she says excitedly.  "Waldorf gives space to explore your culture. I grew up in a community organized by a petrol company, and my culture was separate from the local people. Teaching Waldorf lets me go further down this road," she says. She wants to take everything she has learned back to China someday. "In China, Waldorf is getting popular and everything in China moves so fast," says Peng. "We are on a journey to educate ourselves, and at the same time to educate our children to be true human beings."