By Anne O'Connor, Development Director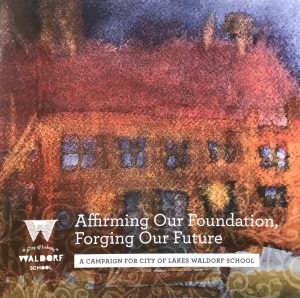 So much has happened since our wonderful gathering on February 29 to kick-off the public phase of our Capital Campaign: Affirming our Foundation, Forging our Future.
Let's think back for just a moment to that evening of connecting through hugs and handshakes, of dancing together, sharing fantastic finger food from the same table, oohing over the gorgeous design boards and the most outrageously fun, community-live karaoke you've ever seen. Okay, maybe the only live karaoke you've ever seen. Wasn't it a blast? Thank you for being there and celebrating our school.
Here we are, less than two months later and it feels like another life.
The effects of the Coronavirus are everywhere. We are all socially distancing, some of us have less work, and some of us are busier than ever. We hope that you and yours are well and still finding ways to hug and dance with your closest people.
What remains through all of it is our need to focus on the future that we want for our children and for children to come. It is the right time to affirm our foundation and forge our future. And we do both by investing in our beloved school and its beautiful home.
Many of you received the booklet in the mail outlining the work we will accomplish through this capital campaign. It came to you just as our country began to shut down.
And still, some of you took the time to use the donation envelope from that booklet and send in a donation. Some of you have been in touch about a pledge. We are so grateful and impressed with our generous community. Thank you for contributing to our school's future.
Our Capital Campaign will go forward but for now, we're pausing to prioritize the current needs of our school and wider community. We recognize that many members of our community are facing financial uncertainties. City of Lakes Waldorf School has turned its full attention to meeting the unique challenges of today—providing a rich Waldorf distance learning experience for our students, retaining our staff, and supporting our current families.
While we are not actively pursuing the public portion of the campaign right now, we still welcome contributions towards the Capital Campaign. If you are able to make a gift, please click here to donate now. We look forward to relaunching the campaign as soon as the time is right.
Note that all Capital Campaign donations are reserved in a designated fund and will be used exclusively for the projects outlined in the campaign:
Play Yard Expansion: Major renovation of our Whittier play space including added greenspace, designated play areas for younger and older students, a refreshed woodshop, a new outdoor classroom and greenhouse, and a new parent hub.
Facility Upgrades: Capital funds will be used to launch a comprehensive maintenance and replacement plan to ensure the health of the building. This includes roof repairs, tuck-pointing of brick and limestone, and resetting the front steps.
Classroom and Catering Kitchen: A space to enable a school-lunch program, class projects from making salt maps to making lanterns, to drying foods, and supporting other school events.
We originally planned to complete a large portion of the play yard renovation this summer. Due to the COVID-19 pandemic we have adjusted our plan; we will take some small but significant steps towards the completion of these projects over the summer months ahead. In the midst of a crisis, there is always opportunity. We look forward to working with you to create the best opportunities to keep our school strong and adaptable so that we can serve students and families now and in the future.
Anne O'Connor started as Development Director earlier this month. You can reach Anne at anneoconnor@clws.org or at 608.606.4808.