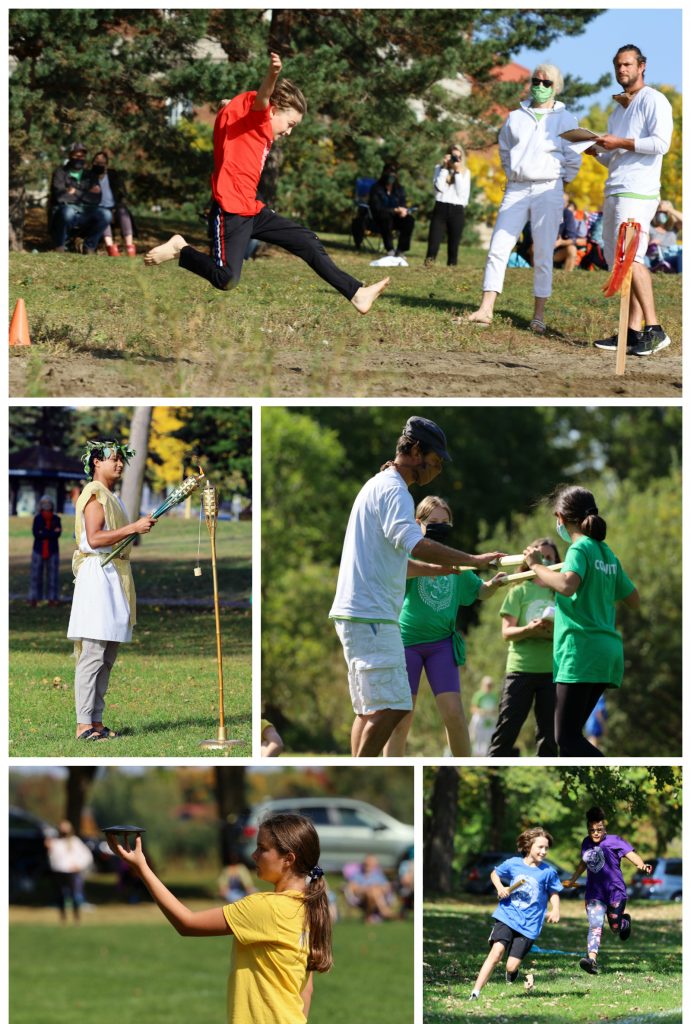 On Thursday, September 24 our sixth grade students participated in a unique Pentathlon event as a culmination of their studies of Ancient Greece that typically takes place in the spring of their fifth grade year. We are proud of all of their efforts over the past year to prepare for this milestone event, which offers each student the opportunity to demonstrate their concentration and skill in achieving their personal best. Thanks to Movement and Circus Arts Teacher Jason Burnstein and 6th Grade Teacher Michael Roth who were determined to overcome the obstacles presented by the pandemic to offer this memorable experience for our students. And thank you to 6th grade parent David MacGillivray for taking such beautiful photos!
From Jason Burnstein, Movement and Circus Arts Teacher:
We stood on the banks of Lake Bde Maka Ska and began in silent movement. The sky was just clearing from a rainy morning. The sun was breaking through and glistened off the water. We acknowledged the Dakota people and the sacred land that we stood on. It was a perfect place to have a Pentathlon, a five event competition involving the javelin, discus, wrestling, running and long jump. For the Pentathlon is a celebration of humanity, and the Truth, Beauty, and Goodness that we all are capable of bringing to this earth.
Next, we welcomed Zeus and Athena. We lit the torch and the 2020 CLWS Sixth Grade Pentathlon began! From that moment on the day was filled with triumph after triumph. The students certainly rose to the occasion and demonstrated their hard work and earnest striving in every event. They jumped like never before with a fiery explosion into the air. The javelins pierced the sky in a rainbow arc of intention and purpose. The disci soared to the heavens and our hearts soared with them. They ran with grace and speed and endless perseverance and determination. They even found a new way of meeting face to face (with six foot sticks keeping them distanced) and inspired their opponent to stand their ground in wrestling.
There were so many memorable moments. From a student being blessed gently by a bee to a hawk swooping low over the field inspiring the flight of the javelin that followed. The beauty of the day, the inspiration from the land and waters, and the students' heartfelt striving all came together to form a picture of humanity that was truly worthy of admiration. I was greatly impressed by this class's willingness to change. They never gave up in their efforts to reach for the ideal.
Considering all of the challenges that we face during these unusual times, the Pentathlon was a reminder to all that we hold within us the human potential to reach towards the heavens in our actions and intentions. And when we truly open our hearts to the infinite space above, the clouds part, and the glorious sun shines bright as ever.