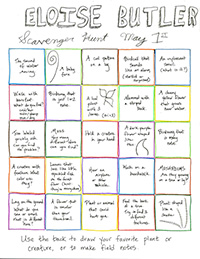 In celebration of Screen-Free Week, one of our families created a Nature Scavenger Hunt together that can be used on the trails at Eloise Butler Wildflower Garden in Minneapolis.
Eloise Butler Wildflower Garden asks that visitors stay on the paths and not disturb the plants, so this is an experiential scavenger hunt using the senses rather than a collecting one. Jennifer notes that while a few items included in their guide are specific to this exact time of spring, many would transfer to other locations or seasons.
Thank you so much, Jennifer and Edgar, for sharing your creativity with us! Click here to download their beautiful guide.