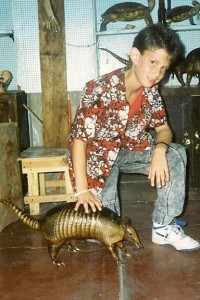 Guess Who? Meet Jason Burnstein
By: Becky Larson
Did you recognize our movement and games teacher Jason Burnstein  in this photograph from 1988, the year our school was founded? This picture was taken on a family vacation to Mazatlan, Mexico and we all got a kick out of seeing Jason posed beside a stuffed armadillo! Jason and I sat down to talk about how falling in love with his wife introduced him to Waldorf education, his passion for martial arts and how he discovered the art of clowning.
Jason grew up in Great Falls, Montana and then moved to Los Angeles, California. His first love of movement came through martial arts. He began karate classes at five years old, and earned his first black belt at 9 years old. At 15, he was teaching Tae Kwon Do as a part time job. He didn't discover theater until his senior year of high school. He saw a production of "Fool Moon" by Bill Irwin and David Shiner, a wordless, nouveau vaudeville clown act that made a big impression on him.
He went to college at University of California, Santa Barbara, where he studied theater, especially movement and clowning. He had a mime teacher who was particularly influential and became interested in creating original theater. After college, he created a show called "Woven" which he colorfully describes as "theater as rock concert".
"Woven" brought Jason and his cast to The Women's Club of Minneapolis for the Fringe Festival in 2000. (This year's circus, directed by Mr. Burnstein, was also held on that stage, making a nostalgic, full-circle moment for him.) After the show, many of the cast members went to Ball's Cabaret for their long-running midnight open mic. That's where Jason first saw a pretty girl playing her guitar and singing- Miss Elena Orsak. "We struck up a friendship and romance, " says Jason. "Woven" toured the country, with a long stint back in California, and he invited Elena to open the show. Before long, Elena had made her move to California permanent and the two were officially a couple.
Jason went on to get his Masters of Fine Arts in theater through Naropa University in conjunction with the London International School of Performing Arts.  ,  He and Elena lived together in  London for over a year. When the pair came back to Minnesota, Elena was eager to get re-connected at Minnesota Waldorf School, where she had been a student and long-time community member. Jason says Elena was his first introduction to Waldorf education, but that the educational philosophy immediately made sense to him. The two had attended Waldorf workshops and run several summer camps and programs together over the years, so it was a natural transition to start substitute teaching at Minnesota Waldorf School. Jason was soon helping with plays and performances as well, and before long they were interviewing him for a full time job.
In the summer of 2005, Jason was doing a clown show at Valley Fair directed by  Lloyd Brant. He got a call that morning from Minnesota Waldorf School, saying they couldn't offer him a full time position that year. "I hang up, and I'm freaking out.  I'm a clown at an amusement park and I've got a baby on the way- what the heck am I gonna do? The same day I got a call from Peter Lawton, asking if I would be interested in interviewing for  the movement teacher position at City of Lakes Waldorf School."
Mr. Burnstein taught Movement and Games, and has also been ta classroom teacher, taking the class 0f 2012 from grades 6 through 8. Those students are now sophomores in high school, and he keeps in close contact with many of them. After his time as a classroom teacher, he went back to movement, circus and helping with class plays.
On the heels of 6 years of graduate school, Jason says he initially felt reluctant to take on 5 more years of education at The  Spacial Dynamics Institute.  As a new father, he didn't want to leave his little baby 3 times a year to travel to Albany, New York.  "But after the first session, I was on board completely," says Jason. "Spacial Dynamics offers an experiential understanding of anthroposophy without being overtly esoteric. It doesn't talk about anthroposophy directly, it's more about  the experience of your body in relationship to space, the connection between point and periphery. It becomes a real, tangible experience of something bigger, the spiritual grounding."
"I'd read a lot of books and taken courses at the Rudolf Steiner Institute, but [the philosophy] can get stuck in the head. Spacial Dynamics gives a full body experience. Because I've felt it, I know it to be true," says Jason. For someone who lives so solidly in his body, Jason describes his first experiences in the class as transformative.
"There was a 70 year old woman in our class who started because she had terrible problems with dizziness and balance. On the first day, she couldn't stand on one foot without tipping over.  On the final day of class, we all had a chance to share something with the group. She stood up on the balance beam, and walked across perfectly. Then she walked backwards." His eyes light up and he jumps up to demonstrate. "Then she started to do these exercizes." He balances with one leg extended behind him and both arms outstretched, a picture of grace. "She took it in  and worked with it and had results. And it happened to everyone in the class."
I ask if Waldorf education and anthroposophy seemed "far out" to him in the beginning. "There is plenty I still hold as questions, " he says thoughtfully. "I was brought up Jewish, so some of the religious aspects in the study of anthroposophy- which is not to be confused with what we do at a Waldorf School-were a little difficult for me. But it's really about freedom, it's not a dogma. The question is, how do you educate children to be free individuals, who can do good in the world? How do you have freedom in thought and action? Hopefully it gives a sense of reverence, that the individual is  part of a greater whole, and [the education] develops the capacities within them that they can apply in any direction."
I ask how movement fits into Waldorf education. "The goal is to instill in them a love of movement, and freedom. They should never think 'I'm not good at dance or sports'. It's meant to create confidence and remove obstacles so they can not force things, but allow things to unfold. It's about more than just the physical body, that's why it's called 'movement', not 'physical education'.  It's about their relationship to the space around them and to each other. There are also many social components to the class, that allow the child to feel met at each stage of life and challenged in a healthy way."
When I ask for examples, Jason again jumps up to demonstrate. "With adolescence, the body is lengthening  with rapid growth. That's why you see teenagers become clumsy and bump into walls and people, because their physical body has grown, but their awareness hasn't grown to match." He stretches his hands high above his head, reaching outward, and bending towards his toes. "They are reaching out and re-learning 'I am there'.  It's coordination- helping them to find the coordinates of their body in space," he says.
"I'll do Bothmer gymnastics with them, in homeopathic doses. If I do a little at a time, they'll come with me, and they love it when it's right for them. For example, an eighth grader is interested in falling into the unknown," he begins to tip forward over his toes and then catches himself just before falling on the floor. I can immediately see a parallel with the transition they will make as they graduate in June, when they will leave behind their classmates and the familiar embrace of this school to try something new and foreign.
Mr. Burnstein has been a staff member of City of Lakes Waldorf School for 9 years now, but says that he enjoys his involvement in the school and believes deeply in it's mission and purpose. "I'm committed to the school as a whole. That's why I'm involved in the festival committee, the finance committee, the Board and the College of Teachers. I love the school and the ability to be part of it's growth and future development."