By: Becky Larson
This photo may have been a little blurry, but many of you still recognized Marcee Hansen, our Grade 7 teacher. In this photo she was teaching in Jamaica for an anthropology field course in college. She spent 6 months teaching in a one room school house with students from 5 all the way to 13 years old. "I lived in a tent on the cliffs of Negril for 6 months, " she remembers, "and I made so many good friends."
That was during her senior year at Ball State University, and life has taken her on many other adventures since then. After college, she moved to the Zuni Reservation in New Mexico, where she taught for four years.
After the first year, she and a colleague were curious about what it would be like to stick with a class from year to year instead of starting over with a new class, to only really begin to know each other at the end of the year. "I said, After working so closely with the children for a year, it seemed a shame to have to start again with a new class when we had just begun to know this group." Her friend mentioned that in Waldorf schools, students stay with their teacher for eight years. That piqued her curiosity, and Marcee  began reading Rudolph Steiner and researching Waldorf education.
Marcee still felt called to serve a high needs population, so she moved to California, and taught at an inner city school there. Then life took her to New York City, where she started a family. When it was time for her youngest son to come to school, she wanted to find a great Waldorf School and her husband was searching for a PHD program. "Minneapolis had both," she says. They were also excited about moving back to the midwest.
At 37, walking into City of Lakes Waldorf School for the first time, she felt like she had found her tribe. "I had goosebumps in the foyer of this building.  I knew we would come here."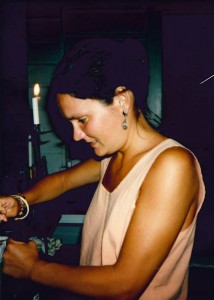 They did exactly that and she's been here in Minneapolis ever since. At first, she ran a daycare down the street, most of whom were also City of Lakes Waldorf School families.  "There were children at our house from 6 am to 6 pm," says Marcee. "We  lived on Pleasant Avenue and people would see me walking down 24th with a baby on my back and a baby on my front and 3 little ones loaded into a wagon."
She began teaching here midway through 7th grade, taking that class through graduation. Then she began again, with the first graders she's been with ever since. What has it been like to watch them grow from 6 year-olds into 13 and 14 year-olds? ""Having an opportunity to work with a class of students and their families throughout this journey has been life changing.  It's an incredible experience for growth and connection," she says.
She can hardly wait for her class's 8th grade year, which is chock-full of exciting moments. She's especially excited for her students to have first grade buddies. "I look forward to observing my class with younger children in a way that they can be role models and revisit some of the same experiences at City of Lakes that they had through the lens of a 6 year old.  They already connect with the younger children in the school and it will be fun to take those relationships to a different level."
The 8th grade trip is another incredible highlight, a chance to get away and discover someplace new with her students will be a real joy. There is also lots to do help them feel prepared for high school and make the right decisions about which school to attend. "It's a big year," she says with a smile. She sure looks ready.