Alex Jacoby is the manager at Pat's Tap, one of our generous school sponsors! He's also a City of Lakes Waldorf School alumnus and a parent at our school. He took time to tell us more about how Pat's Tap first came to be, why he loves his job and how a roll of quarters can make a kid's day. 
CLWS: Tell us a bit about Pat's Tap! 
Alex: Pat's Tap is a Wisconsin themed Skee-Club and Gastro Pub in south Minneapolis.  Kim Bartmann, owner of the Bryant-Lake Bowl, Barbette, Red Stag Supper Club, Gigi's Cafe, Bread and Pickle, and most recently, Tiny Diner and Third Bird, opened Pat's three and a half years ago in October of 2011.
Kim grew up in Appleton, Wisconsin where her mother Pat, had a restaurant called Peggy's.  One of the other restaurants in town was called Pat's Tap.  Kim and her sisters teased their mother saying she owned the wrong restaurant. When Casey's bar and grill was looking for a new owner Kim felt she had found the perfect space to finally open the Pat's Tap she had imagined, complete with 1950's Coney Island skee ball machines.
With Pat's Tap, Kim set out to open her first ever LEED platinum certified restaurant. She put in two solar arrays on the roof, high efficiency utilities, LED lights with motion sensors and low flow plumbing fixtures.  All the building materials had to be certified as sustainable and no toxic chemicals could be used.  The outside was outfitted with two French ground water recapture drains, one under the front patio and one in back.  They are designed to capture all the rain water that lands on the property.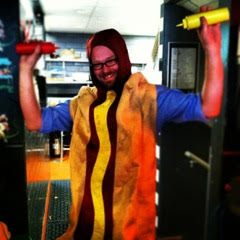 Meanwhile, Kim was being very secretive about the name. Kim had gotten permission from the owner of the now closed Appleton Pat's, but had not yet told her mom she was naming the restaurant "Pat's" after her.  Kim finally told Pat the week before the grand opening, once there was no turning back.  Now, Kim's mom loves to tell people "Why yes, I am Pat," when she comes in for dinner.
CLWS: What is your favorite part of your work?
Alex: I love that my job is to host a party and show people a good time.  Every person who walks through our doors is an opportunity for us to prepare great food and beverages and to make that person feel welcome. Especially with the skee ball machines- when a family comes in, I love to give the kids a handful of quarters and tell them to go for it! Their eyes light up.
CLWS: How did you first hear about City of Lakes Waldorf School?
Alex: My mother discovered the school in '92 when I was in 3rd grade.  She was looking for a school that would be better geared toward my learning style. A traditional style school where you sit in class and the teacher writes on board,  that just wasn't keeping me interested or helping me to be successful. We joked that Waldorf teachers snuck up on you, because you heard stories in class, you did all these activities,  and you didn't even realize that you were learning. It fit my style better to learn how to learn through that process. I have so many good memories of school and close friends that I made during my time at CLWS.  I really wanted that for my girls.
CLWS: What do you appreciate most about the City of Lakes Waldorf School community?
Alex: The thoughtfulness that the community members show to each other.  You really get the feeling of genuine care for one another.  Every day at pickup and drop off I see so many smiling faces, both children and adults.  It is a great thing to be able to be apart of.
I have such fond memories of school, unlike a lot of my friends. It's great to see my children coming home so excited, telling me all the great stuff that happened that day. How much they love the stories, how much fun they have and how much they enjoy learning.  There are a half dozen parents at the school now that I knew from when I went to the school. It's fun to see them everyday.
CLWS: Why did you want to partner with City of Lakes Waldorf School this year?
Alex: My first motivation was to help out.  I do not have the time to get involved as often as I would like with the school.  I was looking for a way that I could do a little bit more.  The partnering with Pat's just made sense from a businesses standpoint.  Pat's Tap is a neighborhood restaurant, and most of our guests come from south Minneapolis. We believe you need to be part of the community if you want to succeed.
Waldorf families have been gravitating to Kim's restaurants for years. They appreciate what Kim's been doing with natural, organic food and a local, community based approach. This is our first direct connection with the school, but it seemed like a perfect fit to help with the Bike-A-Thon, especially with Bread and Pickle right there at Lake Harriet Band shell. I see parents from the school at Pat's Tap all the time and we are happy to give back in a meaningful way.
Thank you so much to Alex Jacoby, Kim Bartmann and Pat's Tap for their generous sponsorship. We are delighted to have your support this year!